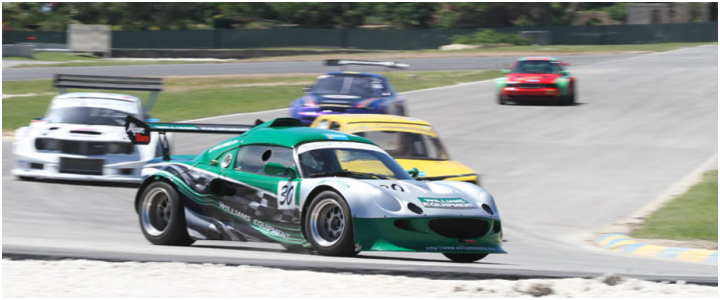 Beacon Insurance backs BMF Club Meet at Bushy Park
Thursday 16th October, 2014
Beacon Insurance is the title sponsor of this weekend's (October 18/19) BMF Club Meet at Bushy Park Circuit, St Philip. More than 18 hours of on-track action, including the first stage of Suzuki Rocks! - the Quest for the Best in the island - is planned over the two days, with bikes, dragsters, karts, race and rally cars all sharing centre stage, offering something for all the family.
Three of the circuit's layouts will be in use on the same day for the first time as member clubs of the Barbados Motoring Federation (BMF) present a multi-discipline festival of motor sport. The Start-line is being moved back to the Clubhouse Straight - for this weekend only - while kart racing will take place on the north-western loop, rather than the more distant south-eastern loop previously used, bringing all the action up close and personal, right in front of the fans on the hill.
Beacon General Manager, Barbados, Brian Hennis said: "We are really looking forward to our first involvement with the redeveloped Bushy Park Circuit. With such a huge variety of competitors and race machinery on both two and four wheels, we are sure that it will be a weekend that reflects our philosophy - Don't Worry, Be Happy."
In addition to Beacon's title sponsorship, Hilti Tools has joined the weekend's roster of supporters, with awards to be presented to the podium finishers in karts and race cars, the winning drag racer, and also to the winners of the three Hilti Handicap races on Sunday afternoon, one each for karts, race cars and Radicals powered by Suzuki.
And the winners will not just be those wearing race suits . . . they will also come from the crowd: there are six Radical Rides to be won, along with three prize drives sitting with drag race star 'DMZ', aka Matthew Forde, by lucky patrons.
Forde is one of the fastest and most consistent competitors in the Barbados Association of Dragsters & Drifters (BADD), which is enjoying sponsorship from Courtesy Garage for the third round of its 2014 Championship this weekend. Driving his Mitsubishi Lancer Evo III, 'DMZ' is joined on the entry list by former BADD Champion Driver Jason Downey (Toyota Corolla RunX), experienced kart-racer Tremaine Forde-Catwell (Daihatsu Charmant) and regular circuit racers Shawn Eversley and Andre Walcott in their Suzuki Swifts. There will be three sessions on the drag strip each day, with time also allocated on both days for 'grudge matches'.
The Barbados Karting Association (BKA) returns to the facility for the fourth time since it reopened, with the SDRR-sponsored round of its 2014 Frutee Championship; practice, qualifying and two race sessions on Saturday will be followed by two further race sessions on Sunday. Close racing is anticipated: in the 310 Yamaha Class, Nick Gill leads Kyle Proverbs by 54 points after four meetings; in the 270 Yamaha Sportsman Class, there is a much closer battle between Saviola Thomas on 286 points, with Zane Maloney eight points behind and his cousin Josh another 25 points adrift; in the X30 Class, Javani Smith leads Aiden Fortier by 56 points. With a maximum of 100 points available for four race wins at each BKA meet, these positions can change in a flash.
On the full International circuit, Bushy Park Motor Sports Inc (BPMSi) will stage the second round of its 2014 Championship; following practice and qualifying on Saturday morning, there will be one race session in the afternoon and two on Sunday, catering for all the Club's classes.
Those chasing Championship points include Steve King (Nissan Skyline), Doug Maloney (Audi A4 quattro), Mark Maloney (Mazda RX-7), Sean Maloney (Mini) and Stuart Williams (Lotus Elise) in Sol SuperModified and Mark Thompson (Honda Civic), Neil Thompson (Honda Civic) and Simon Gillmore (Peugeot 205) in Crane & Equipment Modified Production 2. Williams and Mark Thompson will also be using the weekend as a shakedown ahead of the final round of the Seaboard Marine CMRC in Guyana next month.
On two wheels, Kris Brathwaite and Terrance Ollivierre head the entry, both race-winners in July aboard their Suzuki GSX-R600s. The International Circuit will also be used for Radicals powered by Suzuki, with four sessions allocated each day, of which the last will be a Hilti Handicap race.
The start of the Suzuki ROC Barbados Challenge - Suzuki Rocks! - will feature 20 top local drivers beginning the battle to see who will represent Barbados in the ROC Nations Cup, the team event staged on the Saturday of Race Of Champions weekend (December 13/14). On Sunday, they will tackle a low-speed, autocross course laid out on the Clubhouse Straight in identical 1.2-litre Suzuki Swifts; there will be no head-to-head racing, but performance will be measured against the clock.
Admission is free on Saturday, when action is slated for a 9.00am start, running until shortly before 6.00pm; on Sunday, track action will kick off an hour earlier, at 8.00am. General admission on Sunday is $10 for adults and $5 for children (12 years and under, with children six years and under admitted free). Patrons are encouraged to bring their coolers, food and drink (no glass bottles allowed) to make it a fun day out for the whole family.
You May Also Be Interested In...