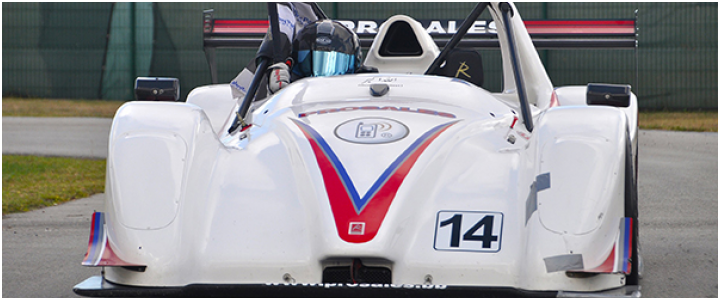 Record-breaking start for third Suzuki Challenge Series
 The third Suzuki Challenge Series got off to a record-breaking start at Bushy Park Barbados at the Glassesco John 'Tiny' Harrison Memorial Race Meet, organised by Bushy Park Motor Sport Inc (BPMSI) over the weekend (May 6/7). Early leader of the SR3 Cup, reigning Champion Suleman Esuf, set new Qualifying and Race Lap Records  - and he'd lapped even faster in Practice - while Josh Read has edged ahead in the Swift Cup, the first time he has led the post-event standings.
  For only the fourth time since the series launched in 2015, each of the weekend's races was won by a different driver in a hotly-competitive start to the season. Esuf shared race wins with Mark and Stuart Maloney, while Read stood on top of the end-of-day Swift Cup podium for the first time; victory in race two was bracketed by second and third-place finishes, allowing him to edge ahead of Trinidad & Tobago's Ryan Peyrau and reigning Champion Ryan Wood, who were the other winners.
  Wood (Team ICBL) was quickest in Practice, but dropped off a tad in Qualifying, Peyrau (Team Simpson Finance) claiming the eighth pole of his Swift Cup career, with Read (Team Massy United Insurance) second and Kenrick Husbands (Team Williams Industries) also quicker than Wood. Newcomer Justin Campbell (Team Rock Hard Cement) qualified fifth, ahead of Barry Gale (Team Bushy Park Experiences) and Martinique's Pascal Calvel (Team Suzuki).
  Shortly before the National Anthem at 11.30am, the heavens opened and, while the rain had stopped falling by the time race one started, the track was still awash, an ideal test for the DMack all-weather tyres. As Campbell said afterwards: "It is one thing learning to race front-wheel-drive, but another learning how to do it in the wet!"
  Having waited to take the Joker until lap five, Read looked set to claim his second Swift Cup win, but came under increasing pressure from 'Woody', who eased past him at the Hammer; he then came under attack from Gale, who lined up to pass him at the Courtesy Dipper, then outbraked himself, but emerged from the MQI Bullet on a tighter line, while Read ran wide; they finished in that order.
  In race two, on a dry track, Read's timing of the Joker Lap worked perfectly, mid-way through the race, and he drove off to win by 4secs; initially placed second, Campbell was penalised for unnecessary contact, a disappointing outcome on his debut after he had enjoyed a determined tussle with Wood and a late-race defence against Peyrau.
  In the final encounter, with the grid based on points already scored, Read and Wood were on the front row, Peyrau and Gale on row two; as the field headed down into The Kink and The Hammer, all trying to occupy the same piece of track, Peyrau emerged in the lead, but with Read soon in a position to challenge, while Gale and Husbands fought over third place. Campbell and Wood took their Jokers on lap one, and soon started to ease up the order, as Jokers were taken, Campbell moving into a podium slot when Gale headed over the bridge. He stayed there, to finish third place behind Peyrau and Read.
  Esuf was the man to beat during SR3 Cup Saturday Practice and Qualifying. He lapped the 2.01-kilometre circuit in 51.183s, exactly three-tenths under the outright record, but could not quite repeat the pace in Qualifying; even so, 58.407s set a new Qualifying mark, bettering Sean Maloney's 58.416s, set last March.
  After a very determined start, Sean Maloney led the opening race from the exit of The Hammer on the opening lap and looked set for victory, until a spin handed the lead to Mark Maloney, with his brother Stuart and 'Sol' Esuf in close company. The order remained the same to the flag, Sean recovering to pass Ryan Gonsalves of St Vincent & The Grenadines for fourth. With the grid for race two based on Qualifying times reversed, Gonsalves was on pole, but soon lost the advance to Sean Maloney, with a fast-starting Esuf up to second. An optimistic challenge from Mark Maloney on the inside at the ICBL Ws, however, resulted in both he and Esuf spinning, the latter recovering more quickly. Esuf fought back to finish second, sandwiched between Stuart and Sean, Mark retiring from the fray.
  With grid three based on points scored, Esuf was again sat between Stuart and Sean Maloney, with Gonsalves fourth and Mark Maloney at the back, having switched cars; a quick getaway enabled Esuf to take an early lead, with the Maloneys battling among themselves, until Stuart retired at mid-distance. With clear track and favourable conditions, Esuf got faster and faster, lowering the lap record twice, to leave it at 58.236s. Mark and Sean Maloney completed the podium.
  Esuf also set all three fastest laps then, to round off a perfect weekend, he join other members of the Barbados Association of Dragsters & Drifters (BADD), which was sharing the race meeting, where he claimed a new 4wd record . . . his third in two days!
Suzuki Challenge Series, Swift Cup round 1 (May 6/7)
Race 1: 1st Ryan Wood (Team ICBL); 2nd Barry Gale (Team Bushy Park Experiences); 3rd Josh Read (Team Massy United Insurance); 4th Ryan Peyrau - T&T (Team Simpson Finance); 5th Justin Campbell (Team Rock Hard Cement); 6th Kenrick Husbands (Team Williams Industries); 7th Pascal Calvel - MTQ (Team Suzuki) Race 2: 1st Read; 2nd Peyrau; 3rd Wood; 4th Gale; 5th Husbands; 6th Calvel; 7th Campbell Race 3: 1st Peyrau; 2nd Read; 3rd Campbell; 4th Gale; 5th Wood; 6th Calvel; 7th Husbands
Points after round 1: 1st Read 58 points; 2nd Peyrau 55pts; 3rd Wood 50pts; 4th Gale 42pts; 5th Campbell 31pts; 6th Husbands 24pts; 7th Calvel 22pts
Suzuki Challenge Series, SR3 Cup round 1 (May 6/7)
Race 1: 1st Mark Maloney; 2nd Stuart Maloney; 3rd Suleman Esuf; 4th Sean Maloney; 5th Ryan Gonsalves - SVG Race 2: 1st Stuart Maloney; 2nd Esuf; 2nd Sean Maloney; 4th Gonsalves; dnf M Maloney Race 3: 1st Esuf; 2nd M Maloney; 3rd Sean Maloney; 4th Gonsalves; dnf Stuart Maloney
Points after round 1: 1st Esuf 58 points; 2nd Stuart Maloney 43pts; 3rd Mark Maloney 43pts; 4th Sean Maloney 42pts; 5th Gonsalves 34pts
You May Also Be Interested In...