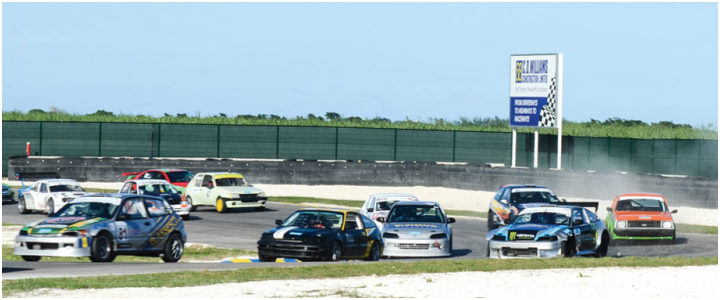 Valvoline and Glassesco back 'Tiny' Harrison Race Meet
Bushy Park Motor Sports Inc (BPMSI) will launch its 2015 season with the Valvoline Glassesco John 'Tiny' Harrison Memorial Race Meet on the weekend of March 28/29. With $15,000 in prize money at stake and a new viewing area - the 4 x 4 Hammer Zone - competitors and spectators alike will be winners.
Chairman of BPMSI Sean Maloney said: "We are looking forward to an exciting start to our Clubs first full season of racing. We have 20 races planned and some ground-breaking innovations, including cash prizes spread across the classes, thanks to our sponsors, which will help competitors who are finding it hard to fund their racing."
Automotive Art brand manager Justin Harrison has been instrumental in bringing together the key players in this initiative, which he conceived as a way of honouring his late father, who would have been 61 next Thursday (March 12). Harrison says: "BPMSI was already planning a great race meeting and I believe the sponsorship from Valvoline, who were very supportive as soon as they heard the idea, will make it even better."
"Every competitor supports Automotive Art in one way or another, buying oil, paint, perhaps tyres, and this is a way in which we can give something back. Back in the day at Bushy Park, if my father saw a competitor struggling to make a race meet, hed do anything he could to help, even get out his cheque book; he was a passionate believer in giving back, and had always hoped to see prize money paid out one day."
Among those who posted on social media, having learned of the initiative, was the experienced race and rally driver Norman Catwell, another well-known for his support of upcoming young competitors and commitment as an event organiser: "This is a worthwhile memorial to a great person, father, husband and motor sport fanatic."
As was the case at BPMSIs last race meet in October, the Startline is in the traditional position on the northern straight, in front of spectators in the Clubhouse and on The Hill, while those in the new 4 x 4 viewing area will have an up-close view of the first-corner action. Bushy Park Barbados Business Development Manager Zoe Manning said: "We will be launching our new 4 x 4 Hammer Zone at this meeting, which we are sure will find favour with patrons. Overlooking one of the most popular corners on Bushy Park, the new Zone will have free-style parking, so patrons can travel with their tents, coolers, food and drinks, and there will be a DJ to keep the atmosphere lively."
The event, promoted by Bushy Park Circuit Inc (BPCI), will include the opening rounds of BPMSIs 2015 Championship; the provisional timetable lists three races each for the Clubs car racing classes - Clubman, Modified Production 1 & 2, Supersport 1, 2 & 3 and SuperModified 1 & 2  plus three for Motorcycles, along with end-of-day Handicap races for cars and bikes, sponsored as usual by Hilti. The 20-race programme will also include the opening round of the yet-to-be-announced Suzuki Challenge Series, details of which will be confirmed in the coming days.
General Admission on Sunday (March 29) will be Bds $20, with The Clubhouse, where food and drink will be on sale, Bds $40; children 12 and under are free. A vehicle pass for the new 4 x 4 Hammer Zone is Bds $25, with individual General Admission passes required for each occupant. Gates open at 7.00am, with racing slated for an 8.00am start. Coolers and food are allowed, but no glass bottles. Admission to Qualifying on Saturday (March 28) is free.
Entries opened yesterday (Tuesday) at Motorsport Services, Haggatt Hall, and close on Friday, March 20. Entry fees are $90.00 (inclusive of uncovered paddock space for race car and service vehicle), plus $60.00 insurance, although event sponsors Automotive Art and Valvoline have agreed to pay entry fees for all competitors who will be racing with BPMSI at Bushy Park for the first time.
You May Also Be Interested In...