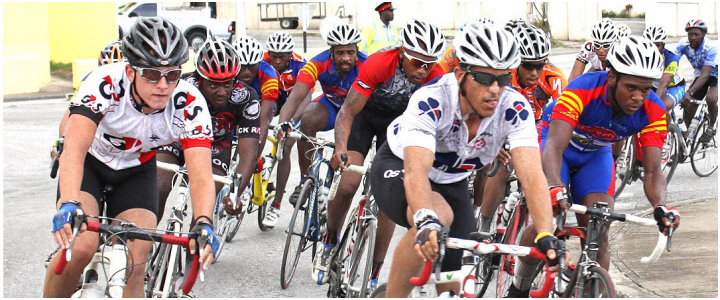 BCU joins BPMSI & BADD at Bushy Park for island first
 The Barbados Cycling Union (BCU) will join forces with Bushy Park Motor Sport Inc (BPMSI) and the Barbados Association of Dragsters & Drifters (BADD) at Bushy Park Barbados on Sunday (March 26) to stage the island's first-ever combined event for horsepower and pedal-power. Circuit Acclimatisation will be followed by two 20-minute Handicap Races, interspersed with the existing track racing and drag strip activity.
  Having lost the use of the course originally scheduled for its March 26 fixture, BCU hopes this trial event will prove successful and provide some building blocks for the revival of cycling. Recently-elected BCU President Charles Lynch said: "Since the re-development of the circuit, we have been planning to return to Bushy Park and, because of having to shift our location, this was an opportunity not to be missed."
  Lynch, himself a former race-winner and Rookie of the Year at Old Bushy Park in his Nissan 1200, was also quick to highlight the links between cycling and motor sport: "The move to Bushy Park is a feather in our cap, as we now have several race car drivers on our books who would not have been able to participate on our first cycling date, as there was a clash. Cycling forms part of fitness preparation for many drivers as they build up to the new season and, as a result, they pedal several miles a week, enjoying one hobby, while getting fit for their other hobby.
  "While persons might not recognise them in their full cycling gear, Ross Callendar, 'Cheese' Catwell, Tremaine Forde-Catwell, Sean Gill, Roger Hill, Barbados Motoring Federation (BMF) President Andrew Mallalieu, Sean and Stuart Maloney, Trevor Manning, Jason Parkinson and Mark Thompson are among the past and present drivers who are regular cyclists."
  Bushy Park Circuit Inc Operations Manager Amy Willis said: "The addition of the BCU to next weekend's programme means it will be the second weekend in a row that we will have hosted something out of the ordinary, following the very successful BFiT Duathlon last Sunday. From our perspective, bringing a new group of patrons into the facility can only be a good thing, especially as there is such a strong family ethos in cycling, with future generations to follow."
  Lynch added: "We are really excited at this prospect and eagerly looking forward to rebirth of cycling in Barbados, working with Bushy Park to make cycling an added attraction at a venue which offers a smooth, safe and controlled environment that is suitable for both competitive and family-type cycling.
  "As we have not raced for more than a year, the races will be handicapped to allow equal competition. Using this first meet as a trial, we will critique it after and the hope is that we can plan a championship series especially for Bushy Park, with the overall winner being crown King or Queen of the Circuit."
Sunday, March 26 (gates open 8.00am): Gate 1 (Grounds & Open Air Suites) - $20; Gate 2 (Race Control Premium) - $30; Cyclone Zone - $25 per vehicle & $20 per person. Tickets available on the gate of on-line at www.bushyparkbarbados.com
Provisional timetable
These scheduled starting times may be changed by the Organisers
8.00am: Practice 1 - BPMSI Group 1
8.15am: Practice 2 - BPMSI Groups 2 & 3
8.30am: Practice 3 - BPMSI Group 4
8.55am: Qualifying 1 - BPMSI Group 1
9.10am: Qualifying 2 - BPMSI Group 2
9.25am: Qualifying 3 - BPMSI Groups 3 & 4
9.45am: Drivers Briefing
10.00am: Race 1 - BPMSI Group 1, race 1 (6 laps)
10.20am: Race 2 - BPMSI Groups 2 & 3, race 1 (6 laps)
10.40am: Race 3 - BPMSI Group 4, race 1 (6 laps)
11.05am: BADD Launch Control, round 1 - Practice
12.10pm: BCU Circuit Acclimatisation
12.30pm: Race 4 - BPMSI Group 1, race 2 (6 laps)
12.50pm: Race 5 - BPMSI Groups 2, 3 & 4, race 2 (6 laps)
1.10pm: Race 6 - BCU, race 1 (20 minutes)
1.30pm: Race 7 - BPMSI Group 1, race 3 (6 laps)
1.50pm: Race 8 - BPMSI Groups 2, 3 & 4, race 3 (6 laps)
2.10pm: BADD Launch Control, round 1 - Qualifying
3.20pm: Race 9 - BCU, race 2 (20 minutes)
3.40pm: Race 10 - Hilti Handicap for Cars (10 laps)
4.10pm: BADD Launch Control, round 1 - Eliminations
5.10pm: BADD Launch Control, round 1 - Grudge Matches
You May Also Be Interested In...