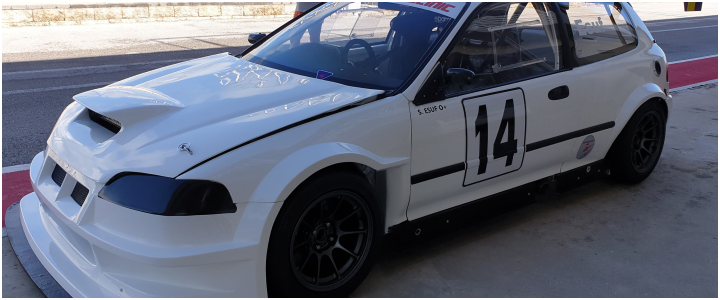 Esuf and Maloney families to represent Barbados in Guyana
Monday 11th November, 2019
 Suleman Esuf and his brother Ahmed will race on Guyana's South Dakota circuit for the first time this weekend (November 16/17) when they join regular visitor Mark Maloney to compete in the Guyana Motor Racing & Sports Club's (GMR&SC) Clash of Champions International Race Meet. The action-packed race programme includes the final round of the 2019 Radical Caribbean SR3 Cup, along with events for Groups 2, 3 and 4, Superbikes and the GMR&SC's local classes.
  While Suleman will race a recently-completed Honda Civic in Group 3, his brother will race in Gp2 at the wheel of the Civic in which 'Sol' had considerable success at the Williams Industries International Race Meet at Bushy Park in September. That weekend, he was twice the winner of both Gp2 and Gp3, finishing second in the final Gp3 outing of the day to Guyana's Danny Persaud (Mazda Miata), whom he can expect to face again in this weekend's three races on the 1.26-kilometre circuit.
  At the wheel of his familiar Mazda RX-3, Maloney has competed at South Dakota for many years, a race-winner in both 2016 (twice) and '17, the two years in which he claimed back-to-back Gp4 2wd titles in the Caribbean Motor Racing Championship (CMRC). Last year, after a dnf in race one, he finished second twice, to end the day the third-highest points-scorer in Gp4 behind hat-trick winner Andrew King (RX-7) and Rupee Shewjattan (Mitsubishi Lancer Evo). Those two drivers from Guyana are listed in this weekend's provisional entry, along with fellow hometown aces Kristian Jeffrey, who twice won the CMRC title in his Evo IX, his father Kevin in a similar Evo, and Maloney's long-term sparring partner Mark Vieira (RX-8).
  While the CMRC is no longer, the GMR&SC will still welcome a range of regional and international competitors for their traditional November finale; in addition to the members of Bushy Park Motor Sports Inc (BPMSI), including the Esufs and four members of the Maloney family - Mark will also be joined by brothers Sean, Stuart and nephew Zane, the recently-crowned British F4 Champion - drivers will fly in from Jamaica, Trinidad & Tobago and the United States, while the Superbike racers will include three riders from the UK.
  Reigning Champion Stuart Maloney of Barbados leads Jamaica's William Myers by a single point ahead of the final round of the Radical Caribbean SR3 Cup. Mark Maloney is 10 points behind Myers, with Kristian Boodoosingh (T&T) and Sean Maloney also within 35 points of the leader, so the title fight is wide open with a maximum score of 75 points possible at the weekend. All four Maloneys have been race-winners this season, Stuart and Mark twice each and Sean once, while 16-year-old Zane claimed a hat-trick of victories at Bushy Park Barbados in September, when he became the 38th driver to race in the SR3 Cup; on his debut, he drove father Sean's SR3, but this weekend will race former Cup SR3 Cup regular David Simpson's car, which he tested at Bushy Park on his return from the UK before the cars left for Guyana, courtesy of Tropical Shipping.
  While Myers has yet to win, the double Jamaican MP2 Champion has been consistent, giving him a solid chance of chasing the title in his Rookie year; his fellow countryman Horatio Brown joined the SR3 Cup with only limited competition experience, but has acquitted himself well in far more experienced company. Boodoosingh is the other race-winner, with three second places helping him recover from a disastrous opening round; his T&T team-mate Luke Bhola, like Boodoosingh in his second year of the regional series, was lying fifth in the standings after round two in June, but missed the September weekend through illness, so has slipped down the order.
  Guyana's lone representative will be Kristian Jeffrey, a race-winner on his home track in last year's SR3 Cup finale and second in the other two races; he will be keen to repeat that form after a disappointing September weekend in Barbados, when he returned to the series for the first time this year. Mechanical issues left the former Winter Champion with a best result of fifth at Bushy Park, despite which his 'hit rate' remains among the best, with seven wins in his 20 appearances, along with a further seven podium finishes, two pole positions and two fastest laps.
You May Also Be Interested In...